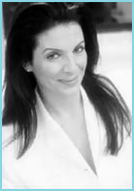 Donna Marie Tozzi is a Pioneer and Inventor in the Aesthetic Medical Industry. Donna Tozzi's Passion for Classic Skincare Beauty took root early in her life. Donna's mother brought to light the importance of Skincare and her father had a penchant for organic, natural food products as far back as the 1970s. While a nursing student at Adelphi University in Garden City Long Island, she independently pursued her interests in Skincare and Natural Products to promote good health. Donna earned her R.N, B.S.N and launched her career in 1985. Through her experience at NY Columbia Presbyterian Medical Center and Hackensack University Medical Center, Donna developed the concept of integrating her nursing background with the Aesthetic Medical Beauty Industry. Donna became a Licensed Aesthetician and studied make-up artistry at the well known Westmore Academy in Hollywood California. This provided exposure to Icons in the Beauty Industry such as Georgette Klinger, Trish McEvoy, Diane Young and Sylvie Hennessy (founder of Pevonia Botanica). Donna added to her expertise by studying and receiving Certification in Sclerotherapy and worked at the renowned Guylaine Lanctôt Vein Cliniques.
At this point in her career, Donna's concept of developing a practice as a nurse performing aesthetic medical procedures evolved. She established her initial client base at a highly respected Park Ave Plastic Surgeons office in NYC. In addition, Donna began performing Collagen Injections under noted Dermatologists and Anti-Aging Physicians that featured a "Celebrity Clientele ." It is this experience that contributed to Donna Tozzi's recognition as the "Celebrity Nurse ." Donna Tozzi now formally established her practice marketing her services to a broad base of physicians in NYC and Palm Beach, FL. Her reputation would lead to the development of Training and Protocol Programs sought by Medical Professionals in Aesthetic Procedures. As a result, Donna founded the TOZZI Institute of Aesthetic Medicine in West Palm Beach Florida. In addition to her client base for cosmetic treatments, she often donated her time and talent Pro Bono.
Through The TOZZI Institute she added and branded a line of TOZZI Skincare and Nutricosmetics. Donna gained accolades in publications such as New Beauty, InStyle, Elle, Lucky and the New York Times. Her product line was launched in Starwood Hotels and the New London Pharmacy in NYC and gained exposure at the Grammys and Oscars. Finally, Donna took note of the widespread use of "Biostimulators" in Europe, specifically in Milan, Italy. Through her strong industry contacts she was introduced to a renowned aesthetic doctor in Milan and began her research on natural, nontoxic, amino acid-peptide products. This Extensive Research resulted in the Development of the Patented Amino-Peptide Injectable under The TOZZI Collection LLC.
During the development phase which included the patent filing for the TOZZI Peptide Injectable, Donna waged her own personal battle with a rare cancer. Through this experience as an Independent Business Woman and Entrepreneur, she has a unique perspective that will lead her in the advancement of Oncology Aesthetics. Further, her long term plans include their creation of a Cancer Charity specifically for independent business people that find themselves in similar circumstances.
Principals and Product Development
Donna's Experience in Product Development drives the Total Portfolio. The TOZZI Collection has planned for the Exclusivity of Product that will ensure successful market entries.
Steven Paul Crystal – Principal
Brings a broad based Business background that provides for the necessary tasks of directing Brand Development, Marketing, Sales, Legal and Financial Planning. Educated at American University in Washington D.C, he holds a degree in Political Science and Business. Corporate experience at Joseph E Seagram and Sons launched his long standing career in the Wine and Spirits industry. Mr. Crystal formed his own Marketing and Sales Companies that developed Brands and Distribution Networks for well known Industry Suppliers.
Their RELATIONSHIP and their combined DEDICATION, CREATIVITY and VISION bring CLASSIC VALUE to The TOZZI Collection and The TOZZI Collection LLC.
Investor Relations
The TOZZI Collection is a Private Company owned by Creator Donna Tozzi and Steven Paul Crystal. A Limited amount of Investment Opportunities may be available at this time. For Information Please Contact Steven Paul Crystal at steve@tozzicollection.com